Labeotropheus fuelleborni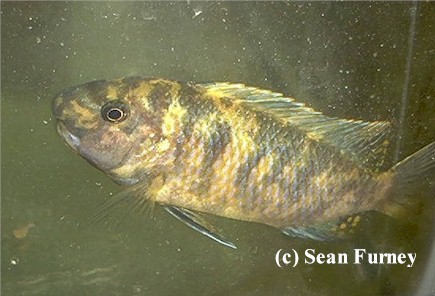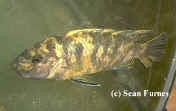 Labeotrophues fuelleborni pictured. The males can have several different colorations from OB to solid blue with a red dorsal, or a bluish fish with an orange belly and side.
Common Names: Also called marmalade cat
Locations collected from: Has a wide distribution in the lake.
Approximate Size: 5 – 6 inches
Food: Will eat pretty much any food from flake to pellet to live foods and scrap algae from the rocks in the aquarium. They did not refuse anything I fed them.
Water Conditions: Likes a pH between 7.5 and 8.2 with a temperature between 76 and 82 degrees.
Breeding Behavior: Mouthbrooder. Males only defended a territory right around spawning time. Mine loved to have rocks and caves to hide in. They spent a lot of time swimming in and out of the caves in the aquarium.
Care of the Fry: Fry can be fed crushed flake, baby brine shrimp, or other small foods. The fry is not picky and if given the same water conditions as adults should thrive.
Tankmates: Does well with most Malawi Cichlids and some Victorian and Tanganyikan Cichlids. I have had mine in with Dimidochromis compressiceps, Melanochromis joanjohnsonae "Exasperatus", Nimbochromis venustus, Iodotropheus sprenerae "Rusty", and Aristochromis christi without many problems. I have seen them kept with Aulonocara species, several Psuedotropheus species (demasoni, OB zebra, red zebra, cobalt, and OB cobalt), and Nimbochromis livingstoni without many problems.
===> Further Reading ===>