Complement your interior design with professionally designed Aquascaping. See the relaxing results when you bring the underwater glory of the reef into your office or home.
Adding a professionally designed and maintained custom aquarium to your business or residence is a design touch unequaled in any other way. Aquascaping is now a new and important addition to the concept of creating a room that is inviting and interesting for all. Adults can gain experience that feeling of wonder and amazement that children naturally have as they watch undersea creatures enjoying a realistic environment that is kept clean and original.
Custom aquariums are an important part of many business and home interiors. You will find them in waiting rooms where patients can relax while watching the slow pace of sea life. Nursing homes, colleges, health clubs, retailers, celebrities, and many Fortune 500 companies hire professionals to design and maintain their aquariums.
Beautiful custom-designed and built aquariums house compatible species in quality surroundings, including custom-built coral reefs. Custom aquariums can be built with the comfort of the inhabitants in mind, as well as the excellence of views from surrounding room seating. The design work will need collaboration of local experts in freshwater, saltwater, and reef aquatic environments. Required expertise includes diagnosis of fish diseases, state-of-the-art filtration systems, and camouflage of life support systems so every custom aquarium view is unhindered.
Use Custom Glass Aquarium As Room Divider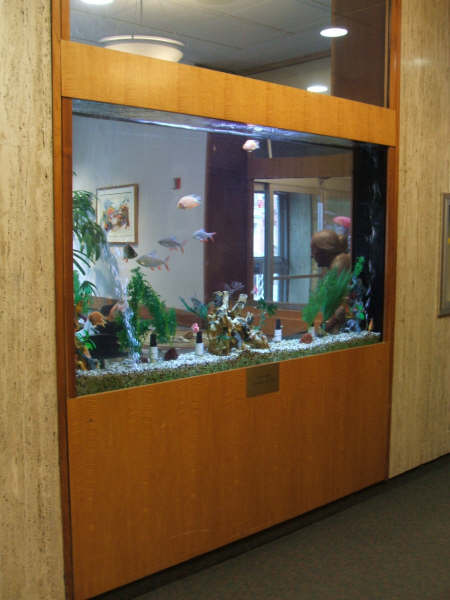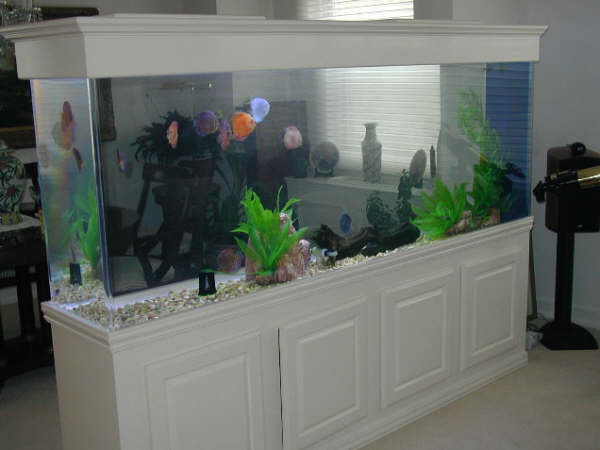 Build An Feature 'Aquarium Column' For Brand Identity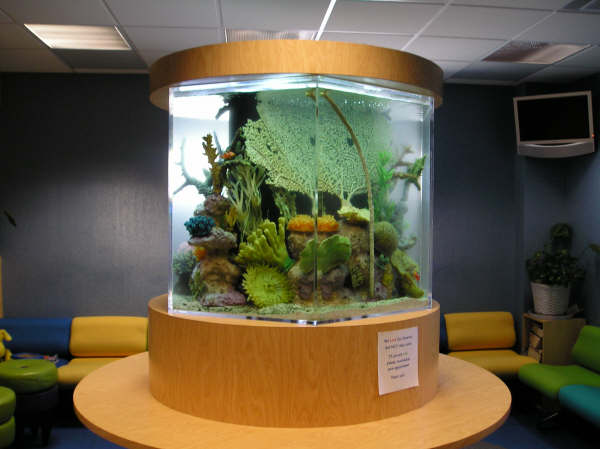 Put An Aquarium At Entrance To Welcome Your Guests/Customers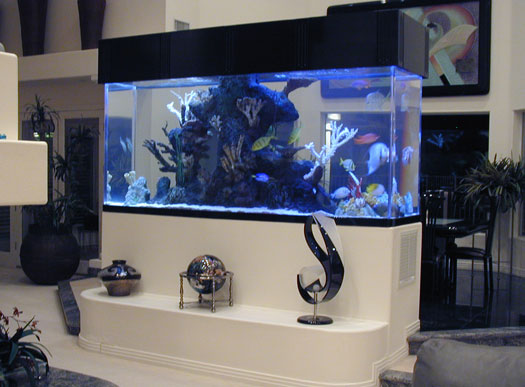 Design An Embed Aquarium To Create Relaxing Atmosphere
Use A Small Aquarium For Good Feng Shui & Good Luck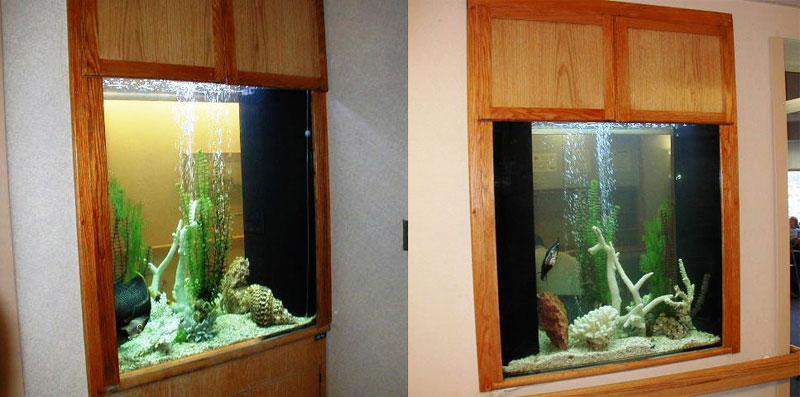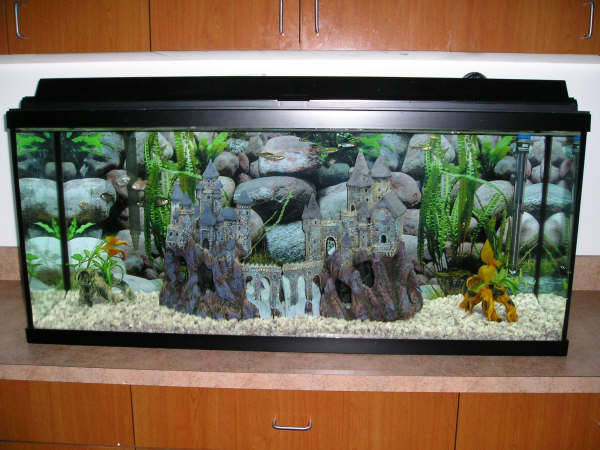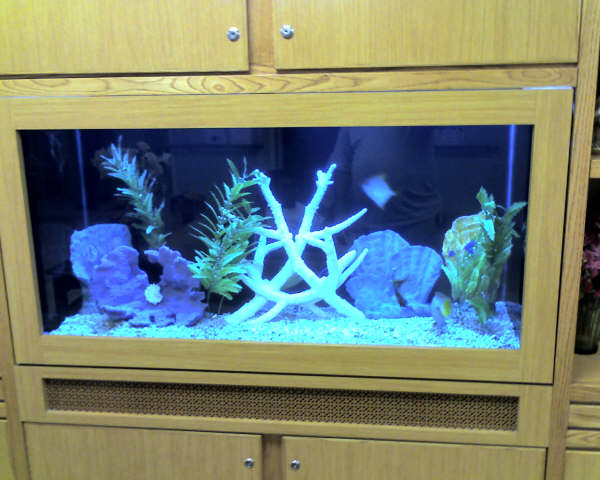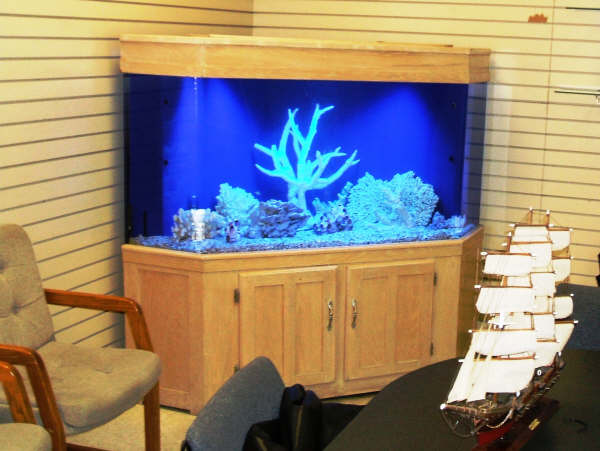 Why Get a Custom Aquarium?
With such a wide variety of aquarium tanks available off the shelf, you may be wondering why to consider investing in a custom-made aquarium. Here are some simple reasons to think about.
With a custom aquarium, you can also get something designed specifically for the space you have, and the style you want — as simple or elaborate as you like. No off-the-rack tank catches the eye the way a custom aquarium does. And no amount of spending on tank accessories can replicate the range of looks, colors, and shapes that a hand-made custom aquarium provides. Aquarium builders regularly collaborate with architects and decorators to make sure the shapes and colors of their designs mesh harmoniously with the rest of the space and will work with you to make sure you're happy with the final product.
And if you're a serious fish fancier, you want an aquarium that shows off your fish to their best advantage, and keeps them as healthy and comfortable as possible. Custom aquarium designers have the experience to create a tank environment exactly tailored to the fish you have and will plan a backdrop and lighting to best enhance the colors and shapes of your fish.
While getting a custom aquarium does mean more expense, in return you will be getting a one-of-a-kind tank that enhances the look of your home, office, or business in a way no other decor can match. That's worth considering.
Custom Aquariums Care and Maintenance
Aquariums are windows into a carefully balanced fragile ecosystem supporting miraculous creatures some visible to the naked and some that most will never even know were there. With proper care, these beautiful creatures excel and provide years of learning and love.
Aquarium maintenance includes:
Clean all interior & exterior surfaces and accessories (glass/acrylic, trim/woodwork, lights, lids, automatic feeders, etc)
Hydro-vac gravel / substrate (15% minimum water change 30% average)
Check / replace chemical filtration media ( i.e. carbon, phosphate remover, etc)
Check / clean additional equipment ( UV sterilizer, protein skimmer, etc)
Replace broken / worn parts (when required)
Check water quality (salinity, TDS, ammonia, nitrate, nitrite, etc)
Clean / exchange aqua-scape materials (plants, rocks, coral, decorative accessories, etc)
Fill aquarium & automatic top off reservoir
Replace airstones
Refill automatic feeder
Visual health and stock check
Your aquarium installers should pay special attention to the future care and maintenance of your aquarium. Aquariums should be all engineered to be as automated as possible.

The installers usually can provide daily, weekly, bi-weekly or monthly maintenance and managed care for all aquariums 24 hours a day, 7 days a week. Future maintainence may include acrylic tank repair, aquarium cleaning, aquarium service, Aquarium setup, training, general servicing, dry goods, and livestock.

The trained aquarium professionals should be ready to handle all situations around the clock, you as the owner just need to feed the fishes and enjoy!
===> Further Reading ===>