The hobby of keeping and maintaining an aquarium has become very popular as it takes very little space and this hobby can be maintained by all individuals whether young or old. Aquariums can be educational as well as entertaining. When the aquarium, is decorated properly with plants, rocks, or corals it can become a very attractive design, and there is nothing more relaxing than watching colorful fish swimming in the aquarium.
These cool aquarium design ideas bring an original and unique decorative touch to your house. Admire the fishes & shrimp with original colors and curious appearance, while observing their exciting behavior and the natural micro-environments. Find the magic of underwater landscapes in the living room, bedroom, kitchen, entertainment room, & more.
==> Learn more about fish tank fishes and plants with the TheAquariumExchange.com website.
Simple modern home aquariums
The modern marble-framed aquarium wall will provide endless entertainment and relaxation. It will also inspire the creativity of people and becomes a focal point of interest. A simple elegant aquarium like this gives a gentle charming attitude to people.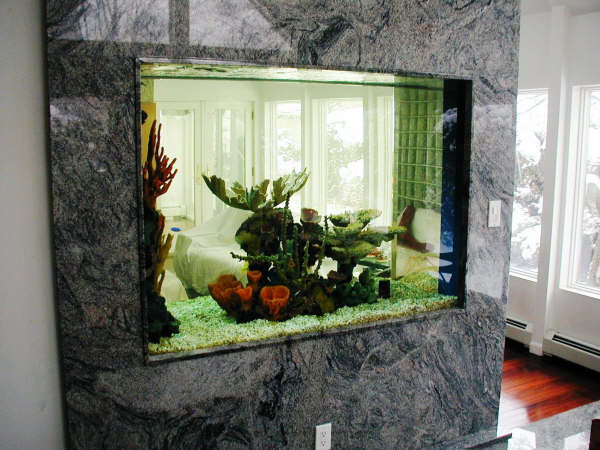 Small desktop aquarium design for home office
Now let's look at the unique small Aquarium design. Management of aquariums can be very successful with little knowledge and practice. It gives a brilliant look to the decoration of a room.
This stunningly attractive aquarium looks great, is strong and safe, and requires virtually no maintenance.
Fish tank designs for living room
Love fishes and coffee? With this coffee table style there is nothing special is to be done, just fill with water and you are ready to go, the system comes as a complete unit. This unique coffee table aquarium is a stylishly designed piece of furniture, giving pleasure to you and your fish, a magnificent example of Unique Aquatic design that brings beauty and harmony to every home, cafe or office at affordable prices.
Cabinet built in aquarium
One of the important steps in setting up your new aquarium is selecting the correct aquarium cabinet.
The cabinet not only provides great beauty to the aquarium but also supports the tank itself and serves a wider variety of needs. You may certainly disagree with placing the aquarium on a flimsy bookcase or a table which would take away the look of the aquarium.
So for people for whom the looks of your surroundings matters a lot, Unique aquarium designs have put together a selection of modern designs, these stands are designed and constructed to give you that selective look. They are also designed to hold the immense amount of weight to which they are subjected. Many beginners make the mistake of not considering the size & weight factors of the aquarium that is going to be placed over the stands.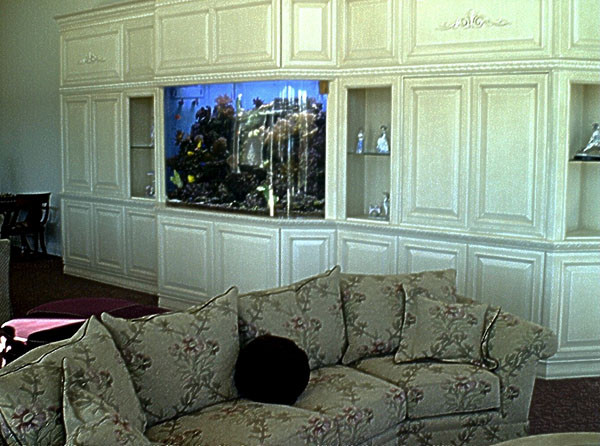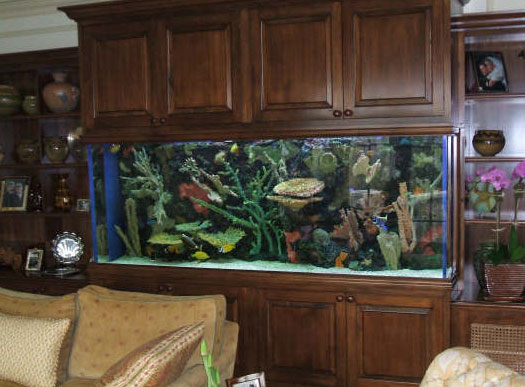 Fish tank in entertainment room
Selecting the right aquarium can seem a daunting task with so many options and various different setups. Aquariums are not only the perfect home for your fish but they can also provide an attractive focal point in any home. We all usually go for the traditional aquarium set-ups, why not move from this way of thinking and go for a unique piece of furniture like the following designs.
In wall between rooms fish tank
Aquarium fish are the third most popular pet, with only cats and dogs proving to be more popular companions. With the advance of technology keeping aquarium systems have now moved forward, using lighter and more durable materials, and making it easier and more cost-effective to maintain the perfect water – even if the aquarium is embedded in the wall.
Aquarium designs for kitchen
Keeping and displaying fish in your home, office, or in your shop not only adds to the décor but also provides a calming ambiance. If you have a keen interest in aquariums then carrying your passion into the breakfast or dining area may seem like a natural step. However, whether you have a personal interest in aquarium fish or not you still need the appropriate equipment.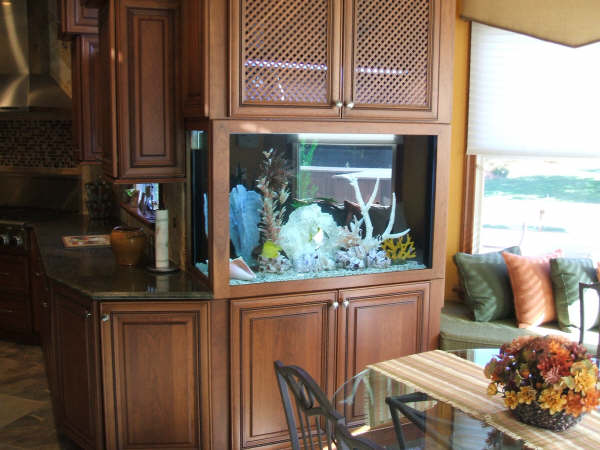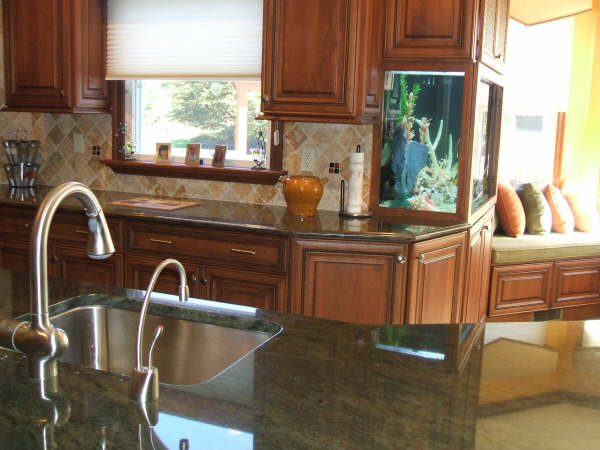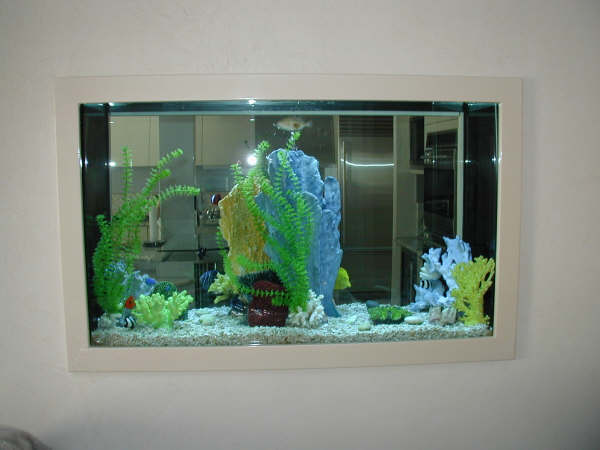 Aquarium next to entrance
The aquarium calming effect is one of the most popular must-haves for the home or for the office. The deep blue-green of the water set in soft lighting, as well as the movement of the fishes and plants in the water, plus the bubbles that form on the surface, have a very relaxing and calming effect on anyone who happens to chance upon it.
If you haven't experienced the aquarium calming effect yet, do give it a try – it makes for a great centerpiece in one's home. An aquarium is a great fixture as it provides you with some sort of dynamic movement in the room in the form of your fishes and plants.
Aquarium next to window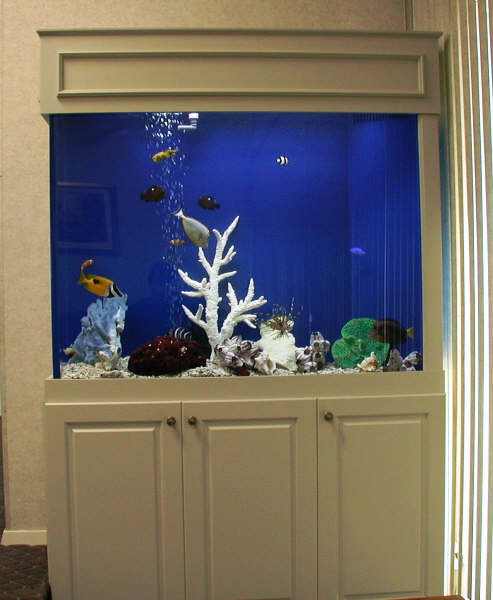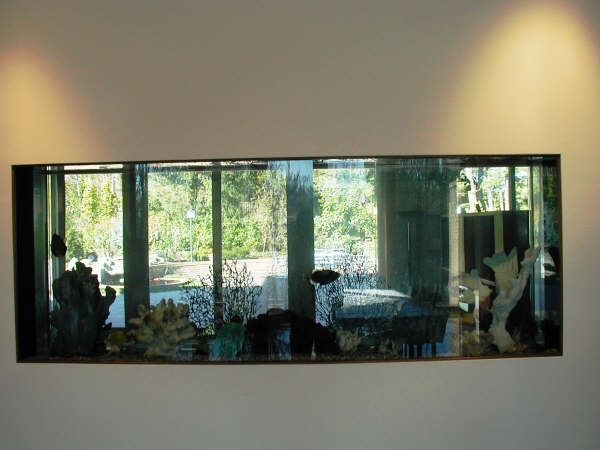 Fish tank designs for bedroom
Aquarium next to TV
Aquarium next to radiator
Further Reading
Are You Interested In Any Of These Popular Aquarium Accessories?
(Limited Supply Again, Click The Images To Check Current Availability.)