Keeping an aquarium and maintaining it is the biggest challenge for people. Your fish tank looks beautiful only if it is clean and has beautiful accessories like lighting, and air bubbles. Here in this article, we are going to discuss a few of the best aquarium cleaning supplies. You can also read our article on how to maintain your aquarium.
Best Aquarium Cleaning Supplies 2022
If you have an aquarium and you want your aquatic life to live healthily you must keep maintaining and cleaning your aquarium tank. This is very important because you dirty aquarium can cause issues which include the death of fish. There are many aquarium tank cleaning supplies available on the market here in this article we are going to review some of the basic cleaning products that will be good for your tanks.
This is the 6-in-1 fish tank cleaning kit in which you will get 6 amazing products at a very cheap price. This kit includes a cleaning sponge, fishing net, right-angle cleaning sponge, algae scraper, gravel rake, and aquarium brush All the products are safe for aquarium fishes and are durable. All the products are specially designed to clean aquarium tanks. The brush can rotate to 180 degrees which is why it can clean the tank corners.
There is an attached scraper which is used to clean tough stuff. There is also a sponge that will clean the tank glass. All the products will give you a clean and shining aquarium tank which is great. In this kit, you will get the handle which is super stretched and can be extended. It is long enough to clean the tank from the bottom as well. You can easily use this you just have to detach the one thing and then attach the second thing. Here is one important tip for you always dry all the tools and then keep them.
PROS
Strong and durable
6 products in one kit
Easy assembling and dissembling
Simple and effective cleaning
CONS
Little hard to get the tools off
The next best aquarium cleaning product is an aquarium vacuum cleaner. This product is so easy and convenient to use and it can easily siphon all the fasces and impurities out of the tank. This is also known as fish poop cleaner. It is made of clear elastic plastic by which we can see if this tube is working or not also this is safe for fish. Its elastic plastic nature makes it durable and non-breakable.
You will get a 3-month warranty on this vacuum cleaner. Using the process of this cleaning product is very easy you just have to pinch the siphon ball a few times and it will start taking water out of the tank. You do not need to blow or strike to get water out.
PROS
Easy to use
Remove all water from the tank
Durable and harmless for fishes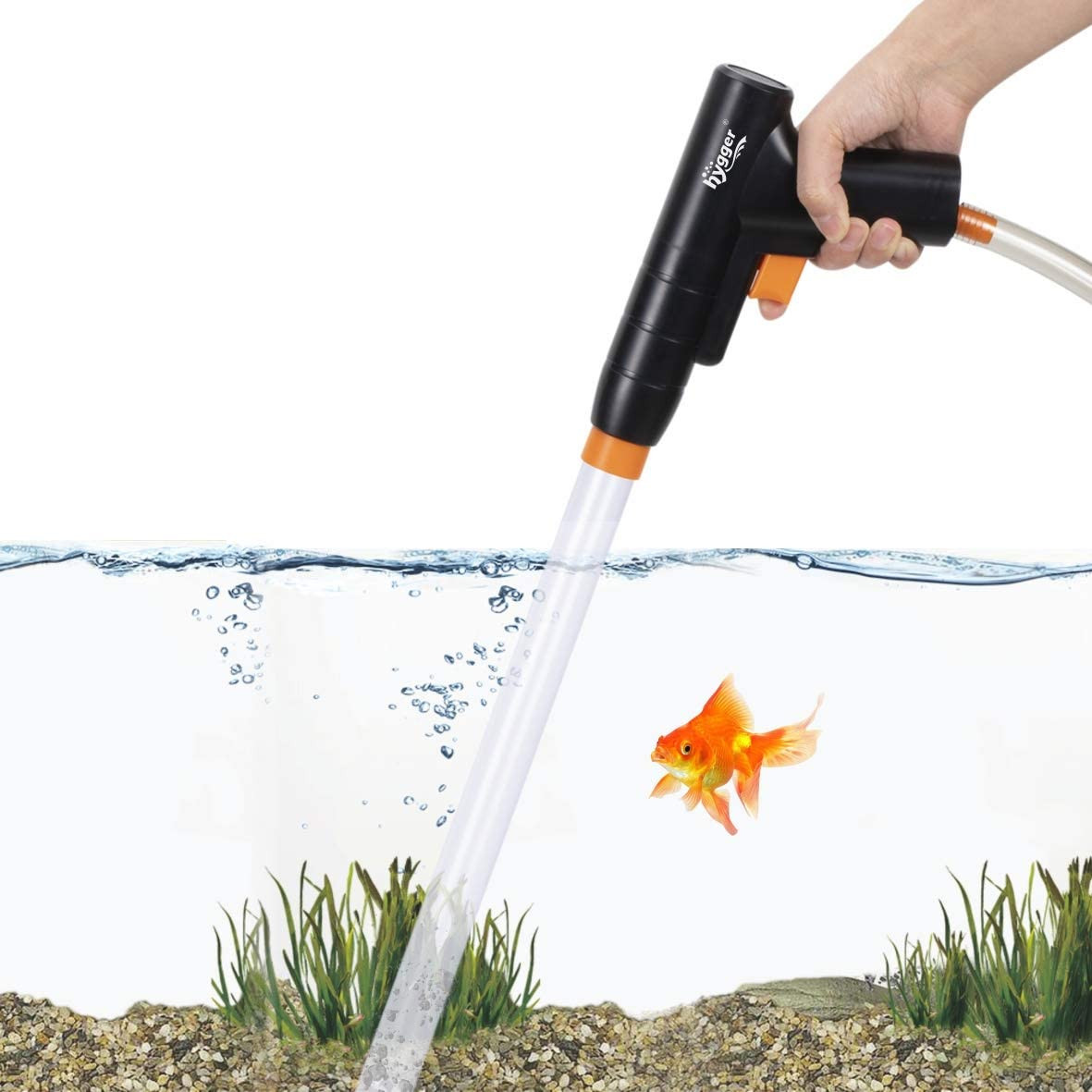 This is another type of aquarium tank cleaning product. HYGGER gravel cleaner is 3 in 1 product. This is the first tank cleaning product that can be used for water changes, sand washing, and dirt suction. Through all this work you do not need to touch the dirty water and just use this product. First, it is a dirt suction that will help to suck the feces away.
The second feature is sand washing, in which the aquarium siphon has a filter basket net that keeps your fish protected from suck out of the aquarium this fish tank sand cleaner is very effective and cleans all the impurities. The third feature is changing water, easy to use effortless operation of changing tank water.
Hygger is a handle-type product that provides manual work. It saves labor and provides the fastest and easiest work. It has an adjustable length design so you can adjust its length according to your wish and convenience. Easy to use because no electricity is used for the whole process. This is a manual product and can be used easily by pressing it 6-7 times.
PROS
3-in-1 product
Easy to use
Manually work
No electricity used
Adjustable length
Durable
CONS
Easy to use but is confusing to start
How to clean an aquarium Tank
If you maintain your aquarium tank then cleaning it is not difficult. First of all remove aquarium lights, aquarium heater, cleaning filter pad, and air pump. After removing all this you can start with the algae scraper by using an aquarium glass scraper and clean the sides of the tank. You can use magnetic tank cleaner as well. After cleaning the algae completely go for the gravel cleaning. You can use a siphon vacuum for this process and clean the dirty water and vacuum dirt.
Try to clean only 50% of the water and do not replace water because by doing this you can remove all the beneficial bacteria from the tank. After cleaning the algae and all the dirt you can then refill the tank with new water. Must note that the new water must have chlorine removed and check the pH level and temperature of the water after cleaning. There is no need to clean your aquarium every day but make sure you do little maintenance after every few days. This will be very helpful for the final cleanliness of the tank.
Cleaning plants and rocks
After cleaning the aquarium tank you can go for the cleaning process of the plants, rocks, and other decoration objects in the aquarium. Take all the decoration stuff out of the tank and scrub them under the water. Keep them soaked in water all night. After that again scrub and clean it properly. Place them again in the water tank.
Conclusion
Keeping your fish tank clean is very important as it can impact your fish. If your aquarium fish tank is dirty it may cause issues as the algae on the surface can resist oxygen and thus fishes can die. Here you can buy the best aquarium cleaning supplies and keep your aquarium clean.
Further Reading
Are You Interested In Any Of These Popular Aquarium Accessories?
(Limited Supply Again, Click The Images To Check Current Availability.)